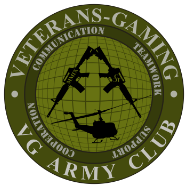 About This Club
Join the VG Army! Casual Open Public Group for our regulars at VG, and first step in the path to =VG= Clan Membership! If you are new, post up in Introductions and let us know what you play here!
---
Club Details and Interests
A place for those who play games like Project Reality, SQUAD, and Arma 3, and play on VG game servers primarily, as well as other games on occasion.
What's new in this club

Hello and welcome! Thanks for the intro! As noted in my other post, please continue to spend time on the server getting to know our regular players and our Admin staff, and to get known yourself, as well. You may use our VG Army Club Advancement Applications at least four weeks from now for 'Jr. Officer' group which includes PR Admin training on our servers. Please do note that 30 days is a bare minimum, and not always applicable to all players (if for example, they played only 4 times in those 4 weeks advancement would be inappropriate at that time, you get the idea - we still account for time actually spent playing on our server, not only raw time passed). See you around!

1

Hey, it's Pew_pew. I am 22, from Asia but I live in Italy so it's nice to meet you all. I have been playing Project Reality for many years now and I can't believe I didn't join this community yet xD. I am bad at introducing myself so I guess that's everything for now xD. See ya guys at Veteran Gaming

2

I recommend the US Vietnam CAS Huey since that thing defies the common laws of physics and can roll like a boulder would downhill

I'd advise against doing it on full server. Some helis don't like to go upside down and will just crash. Rolling is definitely easier and wastes less time Lynx works good for backflips, huey is easiest to pull most stunts in. Chinook is surprisingly agile. Gain height, Do a dive and gain speed. Start pulling up halfway to ground and continue until flip is reached, Returning to level flight takes more time than going upside down and will drop more altitude, so make sure you have enough height to clear ground. Keyboard bind for the pull back works good so you get the most out of it

Pull up, but most can not do it due to lack of speed. The map "Test Airfield" has a bunch of different assets to use offline and practice with.

how to do a back flip while flying trans?

No problem, just click on the little 'Rules' button up by the club name: If you're interested in joining this group, just post up a brief intro here and you'll be added to the 'Enlisted' website group. Our PR COOP Server Rules are something you should become familiar with if you play on that server here, too.

hello im a new member and i didn't read the rules

Hey man welcome to VG community hah (Kinda late yes)

Hello there! I'm Nik, aka NikSRB in-game. Been playing on VG for quite a while now but I was not very active around forums or Discord. I mostly play just PR out of multiplayer games because it's one of the rare games my crappy PC can run In PR I like playing with assets, esp. CAS and trans, tho I don't completely avoid some infantry work as well. About my life a lil bit: I'm 23 year old male from Belgrade, Serbia and I'm working for the Belgrade Ambulance Service as an EMT/Paramedic (We don't really have distinction, we're basically nurses).

Nice to see you at the Arma event man...WELCOME!!!

Welcome Mono...see you on the battlefield!!! Feel free to Join us on TeamSpeak and Discord ...Veterans-Gaming 5.9.23.136 Perfect timing BTW!!!!Peace

Hello! I am Monocalm Or Abdullah if that's what you wanna call me. I am new to the whole PR thing and will enjoy improving. I mostly join PR:VG COOP and play inf. Also if you cant tell I like cars.

Welcome aboard! Be sure to check out our Teamspeak always someone in there.

Hello there! I'm dogenamite (doge or dog for short, whichever you prefer). I finally figured out the fact the forum and discord exists even though I think I first joined the PR COOP server somewhere around early 2021 (I genuinely can't remember when exactly). The server has been an amazing experience for me so far, and the community is great! I'm not really great at introductions so I think I'm gonna call it there, Nice to meet all of ya!

A big Welcome to all the Fantastic Digital Warriors who posted their solidarity here. Well done on being part of the community and spending time with the best of the best in team oriented gaming. You are always in good company here. May your game time be Epic.

Hey all, I've played on the PR COOP for a few days and have been having a blast. I'm returning to uni to study Power Engineering this year in September, so I'm enjoying the free time I've got before then! I've played quite a few games in my time, and still branch out genres every now and then like with Hollow Knight or Hades, but mostly, I participate in the 132nd Virtual Wing where I play DCS in either a C2 position or as RIO in F-14B, but I also fly casually in Harrier, Hip, Hind, Huey and a few others. I've had a burnout though, so I branched out to tactical shooters, playing through some Tarkov, then SWAT 4 First Responders, and then I've been led to PR, which led me to play on your server. I'm quite excited about the upcoming playtest of BattleBit Remastered as well, it seems to be shaping up as one of the best Battlefield games available. In PR, you can expect me up in the whirlybirds often. Flying in PR is in comparison quite simplistic, but also dynamic, liberating and light enough on brain power I was able to play for 10 hours straight. That being said, having boots on the ground is what drew me to PR first place, and I've had fun exploring the various kits and how can they best contribute to your squad. I look forward to seeing you all on the server P. S. You can readily find me on your Discord, under the same name!

Hello everyone, my name is Arcturus_X (you may refer me as Arcturus). I've been playing Project Reality for like 4-5 months. I really love realistic combat shooter. I want to find more experience in Project Reality, looking for more friends in PR and enjoy the game together. My PC is bad but I'm grateful to have it. I'm chill and sensitive person. That's all for introduction. Nice to meet all of you.

Hi Bismarcked welcome to VG.

Hello! My name is Bismarcked! As of now, I only have 2-3 days of experience playing Project Reality (PR), my friend invited me to try this game out and I'm absolutely loving it! I played Call of Duty: Mobile, World of Tanks, World of Warships, World of Warplanes (and their mobile counterparts), WarThunder. I haven't played any other CoD games for I do not have a console, I do not have a strong enough pc, and I think that I should not spend money on games (yes, there's only a few games I bought). I also play other games, mainly gachas (AL, BA, HI3, etc.) That's all for me! Peace out!

=VG= keed i dont run coh with any mods