AVCS4 - How to Control Falcon BMS 4.34 In-Game Radios with Voice Commands
Profile for  VoiceAttack
by =VG= SemlerPDX
Description:
These commands use VoiceAttack to translate the in-game on-screen radio menus from AWACS through Tanker into natural and intelligent voice command phrases that will fire keypress macros to help keep hands on the throttle and stick, and maintain immersion.  As an additional option, these commands can be locked behind a push-to-talk mode bound to your UHF/VHF transmit buttons in-game, allowing any other VoiceAttack command unrestricted access if needed, while still restricting these BMS radio command macros.  Finally, this single advanced control profile is extremely easy to edit or integrate into other profiles.
At VETERANS-GAMING, we fly with friends or AI Pilots, or a mix of both on our 24/7 Public Korean Campaign in Falcon BMS. We may go out with an AI wingman only to have a friend take their place mid-flight.  For this reason and others, I created this VoiceAttack profile based around restricting when the computer can execute keypress macros that match voice phrases, having to first check if that pilot was set to a human pilot and therefore disregard commands for that pilot.

Thanks to user requests during the beta, there is now an optional mode to reverse the Human Pilots system, to assume all pilots are humans unless told otherwise, and also a system to choose a different keyboard layout than QWERTY.  I have also added an optional Audio Feedback Mode to play a short radio cue sound when a command is successfully recognized.

Included is a single profile that handles every callsign and radio command variation in Falcon BMS, with instructions on how to add any custom callsigns to the single profile. The focus of this profile is only on the in-game Radio Menus, and creating an immersive interaction layer through VoiceAttack that is easy to manage and update, or integrate into other Voice Control systems for Falcon BMS.  My goal was an intuitive system, so there is no user manual - only a few infographics and quick reference pic of all the radio commands.  I personally keep that final pic on my tablet for reference when flying, to find radio commands I seldom used in the past when they were more difficult to access while busy with HOTAS in the pit.

Say goodbye to the keyboard, and enjoy the immersion! Cheers!
 
Features: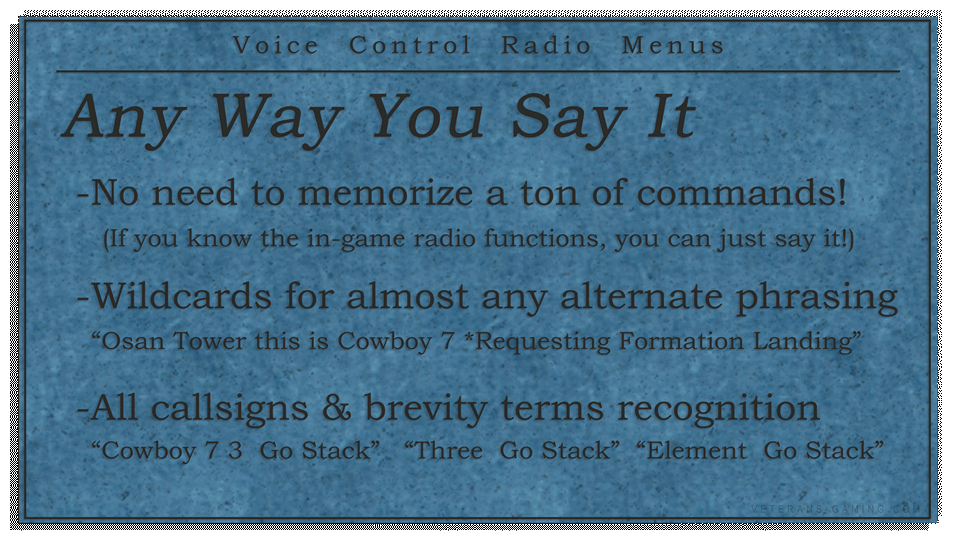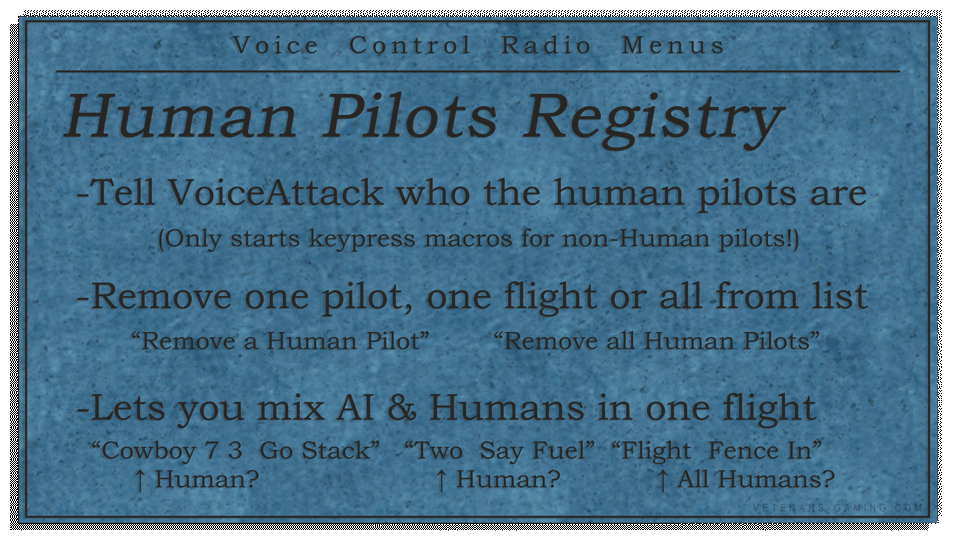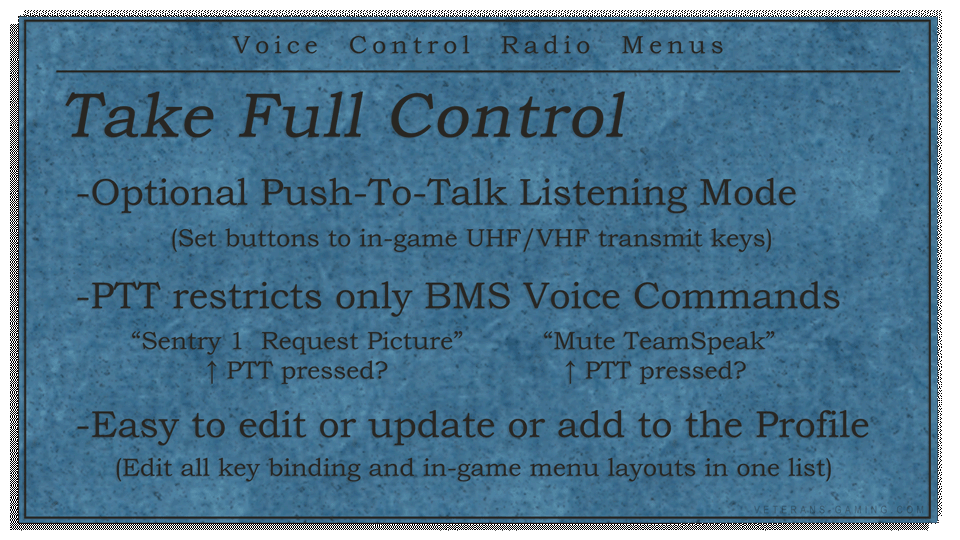 *Push-To-Talk mode disabled by default.  Say, "Turn On Push To Talk Mode" to enable
**Follow Instructions inside profile to set Push-To-Talk buttons to match BMS UHF/VHF keys
Download: (Click Here)
Tips for this profile:
*On first import, you should say, "Initialize Profile" - after first time, this is automatic.  Any attempt to use commands before this will trigger auto-initialization.
If you get errors from my profile, Launch VoiceAttack and open Options (wrench icon in lower right):
  -Under last tab on top, System/Advance, check box next to "Use Nested Tokens" as in image 1 below
  -Unless absolutely required, during testing it's recommended to uncheck "Allow command segment info for composite commands"
 
Open the profile - if not already done, group commands by category and consolidate multi-part commands as in image 2 & 3 below
Click on the Description tab at the top to help sort commands further (see image 4)
Read a semicolon ";" as the word "or" and look at long commands as having many options like saying "2;Two;Too;To;Wingman"  (read as "2 -or- Two -or- Too -or- To -or- Wingman")

 
Commands Reference: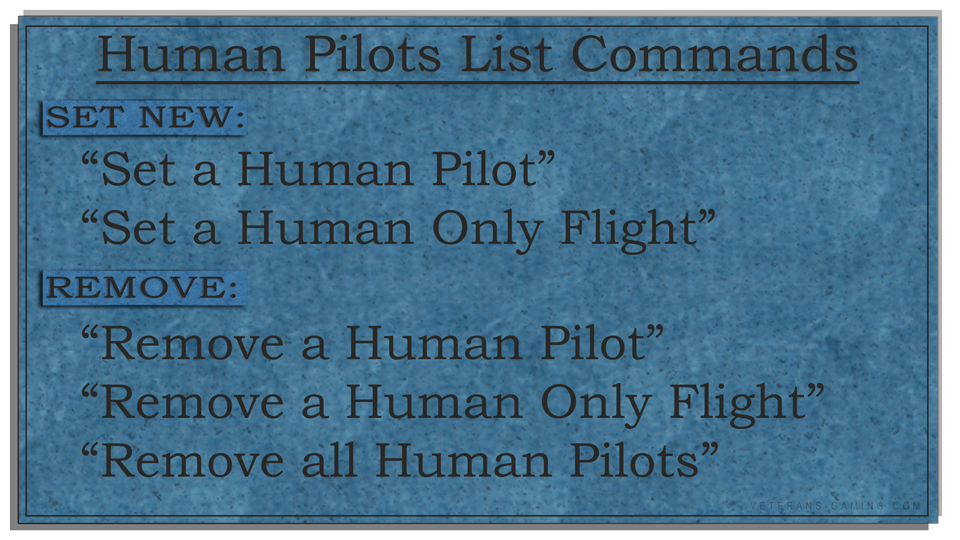 *Replace the word "Human" with "Computer" when All-Humans Mode is ON
Normally, this profile assumes all pilots are Computers, use All-Humans Mode to invert this
 
3 hours ago, =VG= SemlerPDX said:

v1.1 Patch has been released

A small bug has been identified and removed.  This issue prevented the entire Human Pilots Registry system to function and should have been caught before the final release version.  All apologies to everyone who has been trying to use this new voice program.  In addition to this, I've decided to not use a wildcard to catch the name of the BMS program to send keypresses to, and have gone for the "Falcon BMS.exe" method.  Still, this will not catch every user, and players will need to test to be sure commands go through initially, and refer to VoiceAttack troubleshooting (and those tips we've highlighted already) to get commands to fire in the correct window.  I'm happy to help new users, and the community has been helpful as well.  Any questions, feel free to ask!



Patch Release v1.1 Changelog Nov2019

Fixes/Improvements:
 -Changed common Send To default from *Falcon BMS* to "Falcon BMS.exe" to avoid conflict with open PDF's, etc. with Falcon BMS in name
 -Fixed Human/Computer Pilots Registry system - last minute addition of a mode check was to blame, has been removed for now


 Again, any issues feel free to let me know!
On 10/29/2019 at 5:50 PM, =VG= SemlerPDX said:

FINAL RELEASE TO v1.0

Please download updated final version!  Link below and updated in the main post above!  You don't have to remove the old 0.99 beta profile, but it is recommended to not use both at the same time or variables may get messed up.  Thanks to everyone for helping to finish up final testing!

SitRep:
I've finished with all final additions and proposed changes, and all known bugs and issues have been resolved.  We've tested quite extensively to try to break things, and it seems fairly stable.  The final version can be found in our download section, please rate and comment if you like and share this link if you can (click here).  There is now an Audio Feedback Mode that can be turned on or off at any time.  It plays a short sound when a command is successfully recognized, to save time and help avoid the frustration of not knowing if we have to repeat a command.

I've given the option to have the Audio Feedback sound effect to output through stereo left, right, or center channel(s), and this is set when you turn the mode on.  It is a radio cue up type sound, but a bit distinct compared to the ones in BMS to help differentiate feedback.  All three sound files are very tiny, and are included in a VoiceAttack Profile Package for easy importing into VA, and will be placed in folder in the VoiceAttack program folder under Sounds automatically when the profile is imported.

Finally, there is a single Variable Pause in the KEYPRESS_Variables command that controls the time between a keypress and release for every action in the profile.  Default is 50ms, and if a user has any issue with the keypress macros firing buttons too fast for their computer, this number can be increased slightly to slow down the system and fix any issues.


Huge thanks to everyone who helped out with comments, feedback, bug reports, and testing - I'm very happy with how well this profile has been developed, and I have a feeling it will be a solid tool for years to come!  I'll support any changes for future BMS versions, and will try to respond to any questions about this profile.
 

Here's a copy of the changelog:



Final Release v1.0 Changelog Oct2019
New Commands:
 -Turn On/Off Audio Feedback Mode : Provides sound feedback upon successful recognition of a command (per user request)
 -Added a non-functional command to help recognize many variations of "Yes" words for the voice confirmations in profile

Fixes/Improvements:
 -New Variable Pause between any keypress/release for adjustment of the time any key is held down, in keypress_variable command. Default is 50ms
 -New Audio Feedback Mode has custom SFX included, and gives user option of stereo left, right, or center playback for easier distinction
 -New Speech notification on startup for Audio Feedback Mode (if enabled)
 -Speech notifications on startup for PTT mode and All-Humans mode (if enabled) have been greatly shortened.
 -Fixed issues with being able to set Humans in Computer Pilots mode and vice versa

Any problems or new bugs, or brilliant ideas, feel free to drop some feedback!  Cheers!  
On 7/17/2019 at 9:14 PM, =VG= SemlerPDX said:

BETA UPDATED TO v0.99 (final beta!)

Please download newest version!  Link updated in the main post above!  You don't have to remove the 0.98 beta profile, but it is recommended to not use both at the same time or variables may get messed up.  Thanks to everyone for helping to finish up final testing!


Per request, to speed up the interaction of adding/removing pilots from the exclusion lists, you can now say the entire Callsign + Flight Number + Wing Number when asked for the callsign. 

Example: 
"Set a Human Pilot"
"say the callsign"
"Cowboy 7 3"
"Cowboy 7 3 - is this correct?"
"Yes"
...
(bypassing the need to individually set Flight Number and then Wing Number!)

This will jump to the confirmation at the end of the command and greatly reduces the time spent interacting with the voice control system configuration.   During my testing, I found there must be a clear separation between the Flight Number and Wing Number when spoken, to avoid "Cowboy 7 3" getting recognized as "Cowboy 73", and your own results may vary.  Please test and let me know.  The old system is still in place, and you can even just say the Callsign + Flight number, and it will notice and skip to the Set Wing Number segment of the script.  The entire idea was to allow a lot of options to recognize how we speak, and the only catch is that we need to enunciate and keep succinct breaks between words for this style of input.  Further beta testing in this final 0.99 phase should help judge if this will work or if it needs adjustment.


Additionally, there are now VoiceAttack command log notifications whenever the profile loads showing the current profile settings, and also voice notifications if either PTT mode or the new All-Humans mode are On. 
 

Here's a copy of the changelog:



Beta v0.99 Changelog Jul2019
New Commands:
 -Change Default Keyboard Layout allows choices between QWERTY, QWERTZ, & AZERTY (per user request)
 -Turn On/Off All-Humans Mode : Reverse mode assumes all pilots are humans, add Computer Pilots individually as needed (per user request)
 -Copy of all Add/Remove Human Pilots commands for Computer Pilots & All-Humans Mode

Fixes/Improvements:
 -Can state an entire callsign plus flight & wing numbers when asked for Callsign (per user request to speed up the voice system interaction of adding/removing human pilots)
 -VoiceAttack log entries displays profile information on startup (current keyboard layout, push-to-talk mode on/off state, All-Humans mode on/off state) (per user request)
 -Speech notifications on startup for PTT mode and All-Humans mode if they are enabled (see above)
 -Forced profile initialization if not initialized on any command use (per bug report: on first download/import of profile, trying to use any command fails until voiceattack restarted)