Important Changes and New Features in BMS 4.34
---
Airbases, Datalink changes, IFF and more.
Airbase operations
An expected update, airbases now have dedicated ground, tower, and arrival/departure frequencies and menus.
Airbases now handle traffic differently, both on the ground and in the air. Airbase ground control will issue better taxi instructions, and will hand you off to the tower frequency when you reach the runway.
This is all handled automatically through the briefing process, using the data cartridge to assign each frequency to a predetermined preset, which you can view in the briefing window in brackets.
From the manual:
"#2, #3, #4 for communicating with the home airbase as you fly out
#5, #6 for communicating in flight on the tactical net with AWACS for instance (with #13 if doing an AAR)
#4, #3, #2 for communicating with the home airbase ATC upon your return."

In addition to the chocks holding the aircraft in place, there is also an EPU ground safety pin that must be pulled before takeoff in the ground control menu.
Once you take off, you will be handed off to the departure frequency where you inform them of your flights airborne status and receive departure instructions.

Engine temperatures
The engine starting procedure can now fail due to pilot error. Moving the throttle out off the cutoff position before the engine reaches 25% RPM will cause a hot start condition with engine temperatures exceeding ~700C, requiring the engine to be shut off and allowed to cool.
To cool off the engine, you can return the throttle below idle cutoff and leave the JFS running.
There is also a chance that this may happen randomly, so you need to keep an eye on engine temperatures during startup.
The JFS can run for 4 minutes before overheating and 8 minutes before failing. It can now be recharged by the ground crew.

Engine Oil
Engine oil pressure can fail to rise high enough to run the engine.
If the HYD/OIL stays illuminated and the oil pressure stays below 15 psi then the engine must be shut down and allowed to cool before attempting to restart.

IFF has now been added
IFF is meant to determine friendly or bogey status, and has two separate parts: an interrogator that asks for IFF codes from airborne contacts, and a transponder that responds to requests from other aircraft.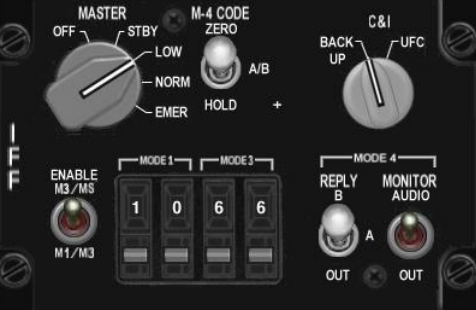 TL;DR Leave the knob on Norm when in flight. IFF requests are made using TMS Left when the FCR is selected. You can change mode requests on the left side of the FCR near the bottom. Options are M1, M2, M3, M4 and M+ (which requests all 4). The most useful modes will be M1 and M4. Correct responses will be green circles, incorrect responses will be yellow squares. Incorrect responses do not mean that a contact is an enemy. 
IFF codes will change over time. Your transponder will take care of this on its own, but to make sure you interrogate for the latest codes make sure you go to the INTG page in the DED (LIST -> RCL) and hit 9 so that the DCPL in the bottom right changes to ALL. This will couple the interrogator to your transponder.

Manual time for nerds:
 
M1 is assigned to a team. All the allies share the same code, which is changed every hour as stated in the TIME events.
M2 is specific to each aircraft. All aircraft have a different M2 code, which does not change.
M3 is specific to each aircraft as well but (unlike M2) rotates every hour.
M4 is always assigned per team and the encryption key rotates every 24 hours.

If a contact responds to interrogation correctly then a green circle with the requested mode will appear in the contacts location on the FCR and HSD. The contact does not have to be visible on radar to respond.
Note that some modes listed above are per team, and others are per aircraft. A contact that you interrogate will not respond correctly to M2 or M3 requests unless you tell your interrogator to look for the response from that specific aircraft.
This means that a friendly aircraft might respond to M1 and M4 requests correctly, but not M2 or M3.
IFF codes change over time, you can see the full details in your briefing screen, but long story short is you don't have to worry about it:
Luckily you do not have to manually input all these settings in the jet; your DTC is pre-programmed
with all the briefed settings. Therefore if you do not change any IFF settings manually, the time and
position criteria will be defined as per the brief and the IFF settings will change accordingly. All you
have to do is turn the IFF MASTER knob to STBY at ramp and turn it to NORM upon taking off.

Datalink changes mean scrubs need to git gud
The -34 includes the following line in section 1.5.2: 
Note: IDM operates over VHF or UHF radio, so you cannot transmit on VHF or UHF and send/receive data link transmissions over the same radio at the same time.
This means that you cannot rely on the continuous datalink mode available on the FCR page to do everything for you if you want to use the radio, and you will have to request datalink info manually with Comms Left.
The manual says:
Once powered up, LIST → ENTR will select the A-G DL page. There are now 4 selectable options on this page:
COMM (UHF/VHF): this option toggles which radio A-G datalink messages will be transmitted over. Note:
everyone must be on the same frequency, whichever radio is used. By default VHF is used for A-G datalink,
with UHF used for A-A (INTRAFLIGHT) datalink messages. This can be toggled by moving the * * asterisks
around VHF/UHF using the DCS switch and pressing a number key 1-9 on the ICP.
Note: while humans can use any radio/frequency, AI are always on UHF TACTICAL (UHF PRESET 6 by default).
More to come.
1

5