About This File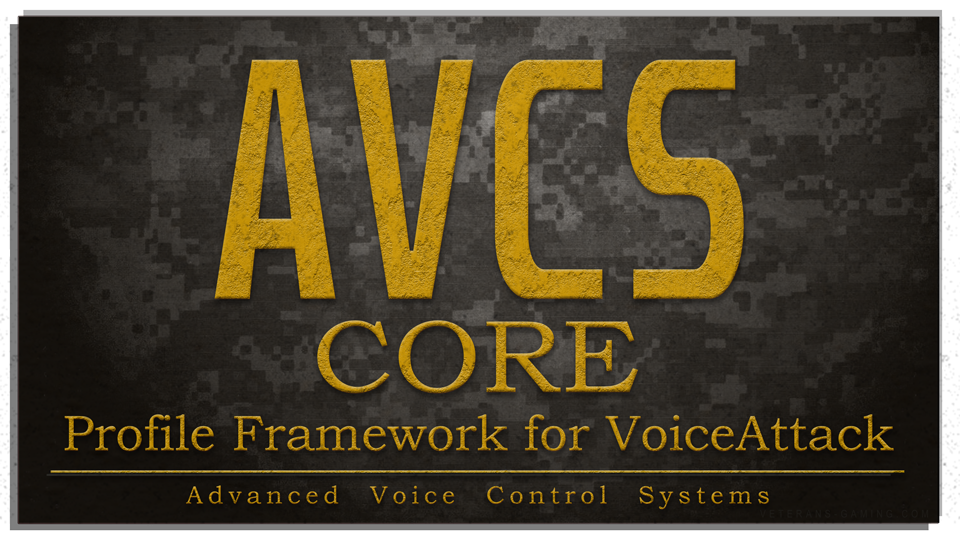 Profile for  VoiceAttack
by =VG= SemlerPDX
Description:
AVCS CORE is the new framework for any VoiceAttack profile I release in future, and provides awesome tools to any VoiceAttack user.  It can be used alone and by itself, or as a base to build a VoiceAttack profile around, including its functions in your own creations.  The Quick Command Creator cannot possibly replace the very easy and very powerful voice commands we can create through VoiceAttack in the standard fashion, but allow users to quickly create simple keypress commands for a phrase, or even advanced multi-step macros that can use a limited selection of common VoiceAttack actions.  The very fun Voice Authorization System lets us create passphrases that we can gate a QCC Command behind, for example, "Execute self destruct mode", 'command code required!', "Picard 4 7 Alpha Tango", 'confirmed'.

I've even created a special home page and forum section here at the VG website, and a channel in the VG Discord, to provide Help & Support for the many users of my profiles - with voice controlled bug reporting to make it easy to let me know when I need to fix something.


Since AVCS CORE needs to load before any other AVCS4 Profile (including the AVCS4 Template Profile), it will be updated the least, and has been tested the most over the past 7 months of development.


Say goodbye to the keyboard, and enjoy the immersion! Cheers!
 




I will be running a Public Beta Test for AVCS CORE and AVCS4 Falcon BMS Radios (1.3.91b), and users are encouraged to try out both, or just AVCS CORE and its included Template Profile, if desired.
Please use the voice command "Open Help and Support Menu" to communicate any bug reports.  These help menus can be expanded without new profile versions, so suggestions are welcome.
Thank you for checking out AVCS CORE for VoiceAttack!    -Sem   (Aug2020)
NOTE:  This beta test is for functionality and flow of interactions with my various systems.  It is a working beta for the updates, multiple profiles initialization, and first time user initialization which grabs the latest config files for said profile(s) from this secure website's AVCS pages (simple HTM pages hosting flat text files of the various default settings, TTS phrases, and Voice Command phrases), and places them in the VA Apps Folder under AVCS CORE and the appropriate profile name folder.  This is how my profile can get "live updates", or minor patch fixes, as I have put so much of the operating settings into these config files.  If someone reports an incorrect TTS phrase, I can change it on the website and then "push" the update as a 'Get User Choice' box when you all load AVCS CORE next ("view changelog", "update", "postpone update").

The initialization time has been greatly improved, though could still be rather slow, depending on your CPU!  Please report any extremely slow load times if you can.  

 -Sem (Dec-6-2020)

 
Features:  see full details in post ↓
Sample Pics:  https://imgur.com/a/mb7e8Kr

(download file contents example, version may differ)
---
What's New in Version
0.92.1
Released
v0.92b Major Profile Update (beta)

I have fixed the issue with international decimal separators, and everything should work well now for all users.  Initialization optimization has been a large focus of this update, especially when using CORE alongside AVCS4 Falcon BMS Radios.  Users will need to download this new version of the profile to take advantage of the updates and fixes listed below.

Thanks for your patience during the beta test rounds here, again, the end goal for AVCS CORE is to be a stable un-changing profile that can handle profile management for any new AVCS4 game profile I create in the future without needing updates itself, and I think we're well on our way to that.  Cheers!

Please be sure to download the AVCS4 Falcon BMS v1.3.92b Profile (if used), this updated changed the AVCS CORE function commands inside AVCS4 BMS, too...

BETA Release AVCS CORE v0.92 Changelog Dec-6-2020

	! USER NOTICE!
	-This is a major profile update, users of v0.91b must download the new v0.92 beta test profile
		-(AVCS CORE profile version 0.91b will be retired in 60 days)

Fixes/Improvements:
 -Improved AVCS_CORE profile initialization optimized again for decreased load time - most noticeable on first use
 -Fixed All Decimal Variables now compatible for international users via cultural invariant token "DECINV"
 -Fixed infinite loop on Minor Version Rollback toggle and version display errors following toggle