AVCS4 - How to Control Falcon BMS 4.34 In-Game Radios with Voice Commands
Profile for  VoiceAttack v1.7.6
by =VG= SemlerPDX
Description:
These commands use VoiceAttack to translate the in-game on-screen radio menus from AWACS through Tanker into natural and intelligent voice command phrases that will fire keypress macros to help keep hands on the throttle and stick, and maintain immersion.  As an additional option, these commands can be locked behind a push-to-talk mode bound to your UHF/VHF transmit buttons in-game, allowing any other VoiceAttack command unrestricted access if needed, while still restricting these BMS radio command macros.  Finally, the profile is extremely easy to edit or integrate into other profiles.
At VETERANS-GAMING, we fly with friends or AI Pilots, or a mix of both on our 24/7 Public Korean Campaign in Falcon BMS.  We may go out with an AI wingman only to have a friend take their place mid-flight.  For this reason and others, I created this VoiceAttack profile based around restricting when the computer can execute keypress macros that match voice phrases, having to first check if that pilot was set to a human pilot and therefore disregard commands for that pilot.

Thanks to user requests during the beta, there is now an optional mode to reverse the Human Pilots system, to assume all pilots are humans unless told otherwise, and also a system to choose a different keyboard layout than QWERTY.
 
Features: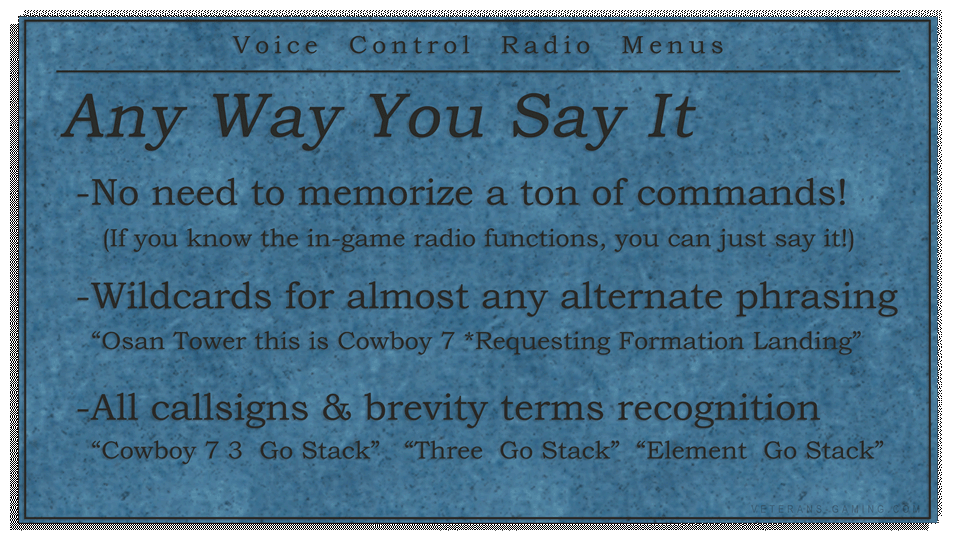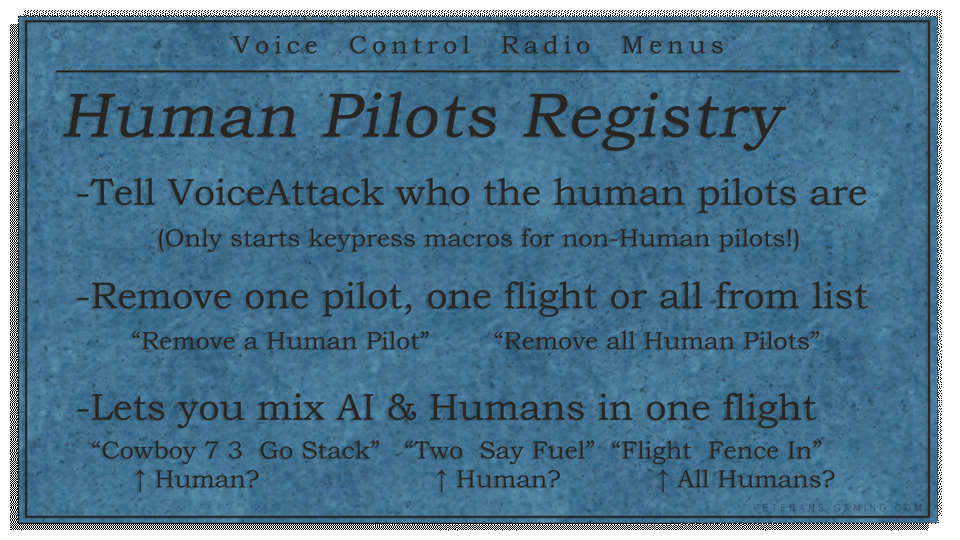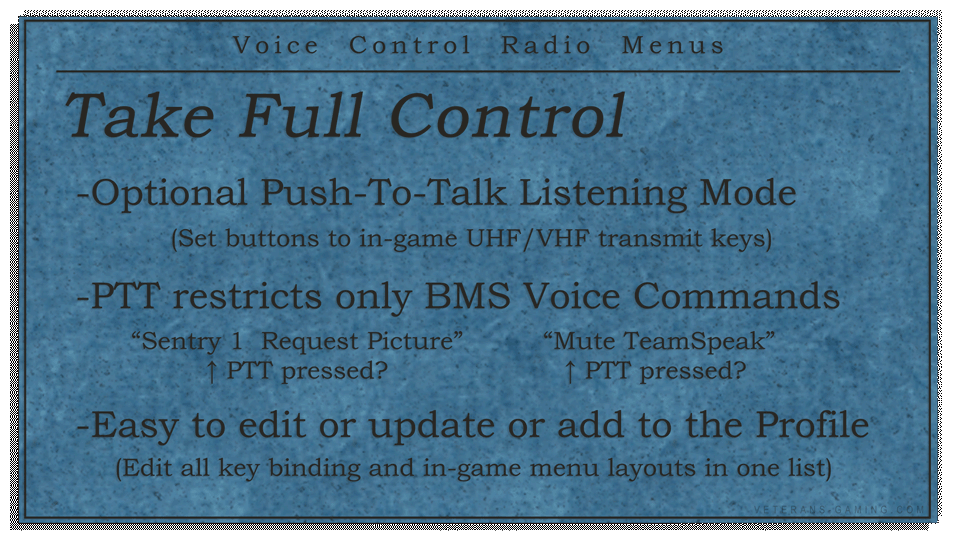 *Push-To-Talk mode disabled by default.  Say, "Turn On Push To Talk Mode" to enable
**Follow Instructions inside profile to set Push-To-Talk buttons to match BMS UHF/VHF keys
Download: (tbd - after beta - almost there as of mid-July 2019, try out the final beta v0.99 below!)
*Looking for some testers who already use VoiceAttack, and who are already familiar with Falcon BMS & flying with AI pilots
Beta Test Requirements & Instructions:
*Must have Falcon BMS 4.34 installed

*Must have registered version of VoiceAttack installed


 
Launch VoiceAttack and open Options (wrench icon in lower right)
-Under last tab on top, System/Advance, check box next to "Use Nested Tokens" as in image 1 below
-Unless absolutely required, during testing it's recommended to uncheck "Allow command segment info for composite commands"
 
Download and Import the current beta version of this profile here: https://www.dropbox.com/ ... Voice Control Radios 0.99b for Falcon BMS/..
*On first import, you should say, "Initialize Profile" - after first time, this is automatic.  Any attempt to use commands before this will trigger auto-initialization.
Open the profile - if not already done, group commands by category and consolidate multi-part commands as in image 2 & 3 below
Click on the Description tab at the top to help sort commands further (see image 4)
 
Read a semicolon ";" as the word "or" and look at long commands as having many options like saying "2;Two;Too;To;Wingman"  (read as "2 -or- Two -or- Too -or- To -or- Wingman")
Attempt to follow instructions in Profile Commands and comments to Initialize Profile, Set Push-To-Talk buttons if desired, Set a Human Pilot, Delete Human Pilots, etc.
Also, please try the inverse All-Humans mode which assumes all pilots are Humans - Set a Computer Pilot, Delete Computer Pilots, etc. - this is a new system in the July 0.99b Update & should be tested.
Launch Falcon BMS 4.34 and fly test flights with AI pilots or mixed with Human pilots and please report any issues when calling commands & any frequently unrecognized words, or any errors/problems

 
Commands Reference: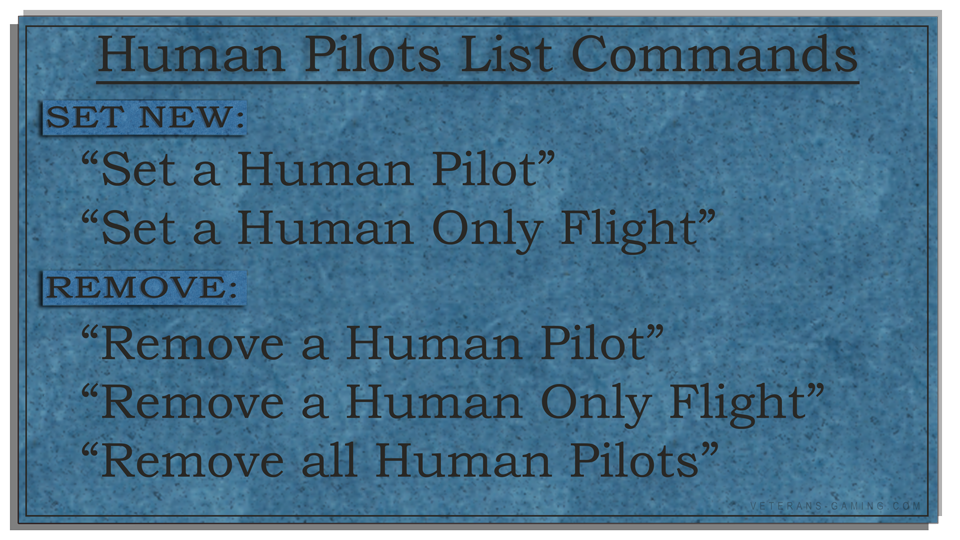 *Replace the word "Human" with "Computer" when All-Humans Mode is ON
Normally, this profile assumes all pilots are Computers, use All-Humans Mode to invert this
 
14 hours ago, =VG= SemlerPDX said:

BETA UPDATED TO v0.99 (final beta!)

Please download newest version!  Link updated in the main post above!  You don't have to remove the 0.98 beta profile, but it is recommended to not use both at the same time or variables may get messed up.  Thanks to everyone for helping to finish up final testing!


Per request, to speed up the interaction of adding/removing pilots from the exclusion lists, you can now say the entire Callsign + Flight Number + Wing Number when asked for the callsign. 

Example: 
"Set a Human Pilot"
"say the callsign"
"Cowboy 7 3"
"Cowboy 7 3 - is this correct?"
"Yes"
...
(bypassing the need to individually set Flight Number and then Wing Number!)

This will jump to the confirmation at the end of the command and greatly reduces the time spent interacting with the voice control system configuration.   During my testing, I found there must be a clear separation between the Flight Number and Wing Number when spoken, to avoid "Cowboy 7 3" getting recognized as "Cowboy 73", and your own results may vary.  Please test and let me know.  The old system is still in place, and you can even just say the Callsign + Flight number, and it will notice and skip to the Set Wing Number segment of the script.  The entire idea was to allow a lot of options to recognize how we speak, and the only catch is that we need to enunciate and keep succinct breaks between words for this style of input.  Further beta testing in this final 0.99 phase should help judge if this will work or if it needs adjustment.


Additionally, there are now VoiceAttack command log notifications whenever the profile loads showing the current profile settings, and also voice notifications if either PTT mode or the new All-Humans mode are On. 
 

Here's a copy of the changelog:



Beta v0.99 Changelog Jul2019
New Commands:
 -Change Default Keyboard Layout allows choices between QWERTY, QWERTZ, & AZERTY (per user request)
 -Turn On/Off All-Humans Mode : Reverse mode assumes all pilots are humans, add Computer Pilots individually as needed (per user request)
 -Copy of all Add/Remove Human Pilots commands for Computer Pilots & All-Humans Mode

Fixes/Improvements:
 -Can state an entire callsign plus flight & wing numbers when asked for Callsign (per user request to speed up the voice system interaction of adding/removing human pilots)
 -VoiceAttack log entries displays profile information on startup (current keyboard layout, push-to-talk mode on/off state, All-Humans mode on/off state) (per user request)
 -Speech notifications on startup for PTT mode and All-Humans mode if they are enabled (see above)
 -Forced profile initialization if not initialized on any command use (per bug report: on first download/import of profile, trying to use any command fails until voiceattack restarted)