Battlefield 3 Patch Released!
A Balancing Act for a Small Fee

The much anticipated Battlefield 3 Patch has released, and DICE has proudly touted this as a package that will make the game "more stable, fairer, and more balanced". Covering a very wide range of changes, fixes, and improvements, this is a BF3 patch to beat all before it. Most notable is the new and improved Commo Rose with it's intuitive design and interface features such as improved functions and readability. The mouse movement is now centered in the middle when the Commo Rose is displayed (by holding down Q), and moving the mouse from center to a selection, players can now activate that action by simply releasing the Q button. This will make for a much faster interaction, a great help to these call-outs for ammo, medic, or spotting an enemy - especially now that all these call-outs will be globally broadcast to every player on your team. Another immediately apparent addition is the new mini-map styles choices. Either a satellite view, a map view, or a hybrid of the two will show buildings and terrain features to better help the digital war fighter navigate his area of operations. Another big one that noOb flyboys are sure to love - flares are no longer an unlock item, but usable by anyone piloting an aircraft.

These all seem like great improvements to a game that is all about earning rank and unlocking special weapons and gear, a system which makes for a very desirable degree of recognition that rewards the diligent, frequent player and his ever improving skills. The idea to limit certain weapons, equipment, and abilities is not a new concept in video games, and Battlefield 3 makes for a grand arena for such gameplay to flourish - putting more powerful items in the hands of seasoned players. Unfortunately for those dedicated players who worked so hard for their unlocks, the Battlefield is about to be leveled with the newest and most controversial concept of purchasing said upgrades outright from EA just as one would the game itself. In my opinion, and many others, this is a very contradictory concept, seemingly moving the core idea of Battlefield 3 online multiplayer gameplay in the completely opposite direction. For an additional $40, one can immediately have access to each and every unlock in the game - or for smaller fees, they can simply buy the unlock set that appeals to them.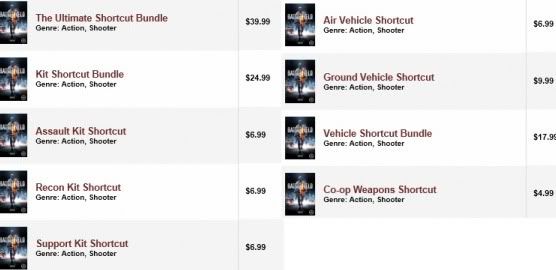 Now, I know many are going to jump and say that this is a good balancing feature due to the fact that anyone who buys the game today, with a desire to play online against others, would otherwise be at a severe disadvantage given the number of long time players who have already unlocked a number of powerful items and weapons now populating the online battlefields. In a game that features tracked stats, ranks, unlocks, and achievements, one must also argue that selling such achievements that would be gained over time through actual gameplay comes very close to unbalancing the fairness of the game in that now many, many more of these unique weapons or powerful gameplay features will now plague the battlefields, many in the hands of players who never had to work hard or learn to use any other weapon to achieve such a level of presence on said battlefield as a proven e-warrior.

In my opinion, all the elements exist in Battlefield 3 to simply balance the fairness of the "unlocks paradox", not by merely selling unlocks to lazy, or more appropriately, casual players desiring full access to game features, but by ordering their ranked servers by rank itself. One of my favorite PvP online wargames of the past was the Socom series for the Playstation. Sure, there were plenty of ranked servers that had no rank restrictions - Ensigns fought alongside Captains, albeit in much shorter life spans - but also just as popular were servers such as Ensigns Only, Lt.'s Only, or servers barring lower or higher ranks. Surely this is a better system than flooding the game universe with each and every unlockable item/weapon/feature to anyone with a bit of green. Imagine how quickly those gamers without a large budget will be outclassed by players who haven't any more experience than they do at the game, or time spent online, but just a fatter wallet.

Of course, Electronic Arts immediately stepped to defend this obvious profit motivated concept, and had this to say in a statement made to GameSpy regarding their editorial on the subject:
"Yesterday we released new content for Battlefield 3 that included the ability for players to purchase a shortcut that unlocks earnable content in the game. The shortcuts are meant to encourage players to brave new territory. We want to offer newcomers a chance to catch up with the veterans that have been playing the game for the last five months. These shortcuts do not create an unfair advantage for any players – new or veteran. In fact, withholding these shortcuts would actually put newcomers in a pretty steep uphill climb, splitting the community.

We understand that everyone plays differently. Some gamers want to earn the unlocks, and they can continue to do so. Others have been wishing for a shortcut, which is now available. We're happy to be able to serve both types of players."

What do you think about this new idea to sell the very unlocks that make the game a rewarding experience to play? Do you think that by selling these features to other players that those trying to work at it through gameplay will be disheartened and frustrated as they see other players left and right with paid for unlock packs? Will this force those players to purchase the unlocks themselves just to be able to compete on this new level where most all players have access to everything but they themselves? Please write your opinions in the comments section below!
by Aaron Semler, Senior Editor VETERANS-GAMING
.:.
Read/Post Comment: 8
.:.